It's exciting everyday,….
Our formerly drab little storefront, with all it's years of neglect, is starting to turn into a  gem of a space. The walls have been skimmed with new plaster and panel molding put in place to feel as if this is what the space has always been. New floors in a sumptuous herringbone pattern are being laid in place and when that's all accomplished – even more needs to be done. But it's worth it everyday because the beauty that is revealing itself just keeps getting better. Here are a few more snapshots of the transformation: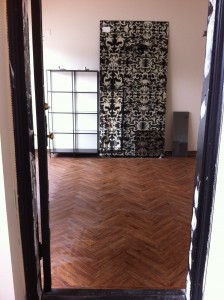 We have some of the most fantastic resurrected furniture going in once all the construction has finished and even WE can't wait to see what it all looks like completed!
August 2nd OPEN
August 2nd is the opening day; right in time for the renowned Uptown Art Fair. Stop by for a gander at the space – complete with furnishings and,….cappuccino!